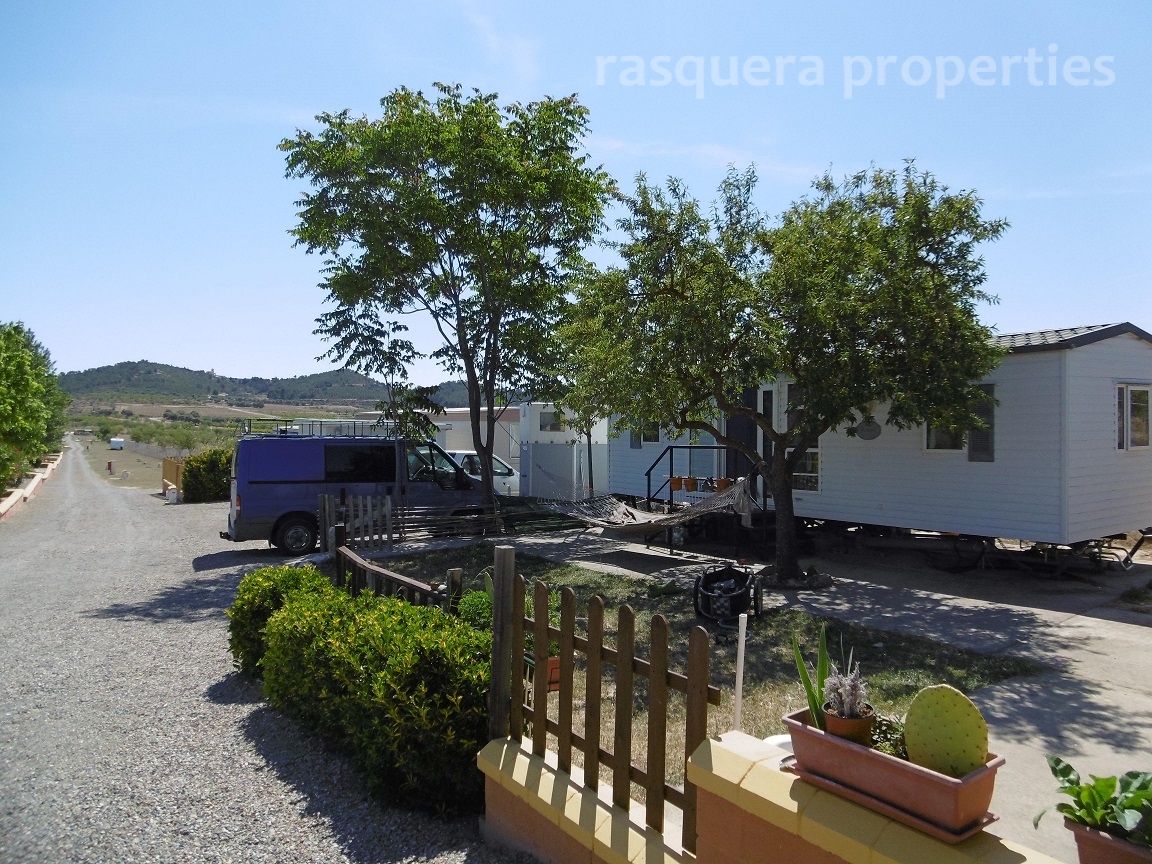 FAYON. 2 STAR CAMPSITE & HOUSE
425 000€
Ref: 057B/19
Located in the heart of the "paraiso de la pesca" (paradise of fishing) area, where the Matarraña river meets the mighty Ebro, this 2 star campsite of 1.4 hectares (13.997m2) is being sold with a 50 pitch license to accommodate up to 200 people.

The fenced property is laid out to include 30 caravan/tent pitches and 20 mobile home pitches, all with mains electricity. There are at present a few privately owned mobile homes which bring in ground rental income all year round.

At the heart of the site is the ablution block which has disability and baby changing facilities, as well as 6 showers, six toilets and basins with plug points. There are outdoor wash basins and taps for drinking water on either side of the block.

There is also a BBQ and children´s play area on site.

The property has permission to build a swimming pool, although one has not yet been built. The village swimming pool is within walking distance of the campsite.

To the back of the campsite is the office and caretaker´s house. The building is currently divided up into 4 separate sections. The office, which could be turned into studio accommodation has it´s own WC and shower rooms.
A one bedroom ground floor flat with terrace, is let out long term. Above this is the caretaker´s one bedroom apartment with terrace.

The tiled basement/utility room has built-in wardrobes along one wall and is where the washing machine, boiler etc are kept.

The property also includes a spacious parking area next to the house.

There is a small mortgage which can be taken over when sold.

Connected to mains electricity and potable water, the campsite is located on the edge of the village, close to the Civil War museum. It is within walking distance of the hilltop hermitage which affords stunning views over the rivers and the sunken village of old Fayon, with only its church spire visible above the water.

Boat launching and fishing areas are 3km from the campsite along a new, wide road. There are also shaded picnic areas here, as well as tour boats which can take guided tours down the river.

Fayon (Faio in Catalan) shares a train station with the village of La Pobla de la Massluca.

The new village of Fayon, which was built in the 1960s after the old one was flooded, has a junior school, medical centre, supermarket, post office and village pool and museum.

Ill health forces sale.

FAYON. 2 STAR CAMPSITE & HOUSE – 425 000€ Ref: 057B/19