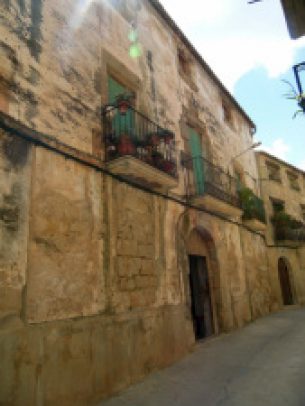 HORTA DE ST JOAN. LARGE VILLAGE HOUSE & BUILDING PLOT
200 000€
Ref: 016B/14
RECENTLY REDUCED BY 120 000€
This is a unique opportunity to buy one of the oldest houses in the ancient village of Horta de San Joan. Situated in the centre of the photo below, with the building plot lying diagonally across from it, on the street below.

Although the family cannot give the exact age of the house, it is believed to be one of the five oldest houses in Horta, meaning that it has stood on this site since at least the 14th century, when Horta was an important medieval village. Both for its vantage point during sieges and because of the spring located near the top of the hill, which ensured that the village never ran dry.

Work has begun on the exterior of the house to chip away the layers of paint and plaster that once covered the beautiful stonework. The age of the building is evident in the carved details below each window and above the huge doorway, as well as in the carved flagstones in the entrance hall and the worn stairs that lead to the first floor.

From the entrance hall to the left there are cellars and stores that go down into the mountainside under the house. To the back of the ground floor is a self contained two bedroom apartment. To the right, the stairway leads up to the living quarters of the present owner, with its lovely old tiled floors and wooden beams. On this floor is a huge sitting room, four bedrooms, the bathroom, kitchen and dining room.

The two bedrooms located to the front of the house have fantastic views across the valley to the famous Benet 's Rocks formation and beyond. 

The attic is still used to house the family´s chickens and dry washing. This area would make a spectacular living area with its exposed wooden beams and panoramic views.

This is a very solidly built house of around 180m2 per floor, with a new roof. It would make an interesting boutique hotel or B&B. A building plot to front of the house, on the street below, is included in the price.

Picasso made Horta famous by saying : Everything I know, I learned in Horta. He did some well known cubist paintings and drawings while staying here, which can be seen in the Picasso centre located within walking distance of the house. 

The village is very popular with tourists, art students, historians, and nature lovers.

HORTA DE ST JOAN. LARGE VILLAGE HOUSE & BUILDING PLOT – 200 000€ Ref: 016B/14