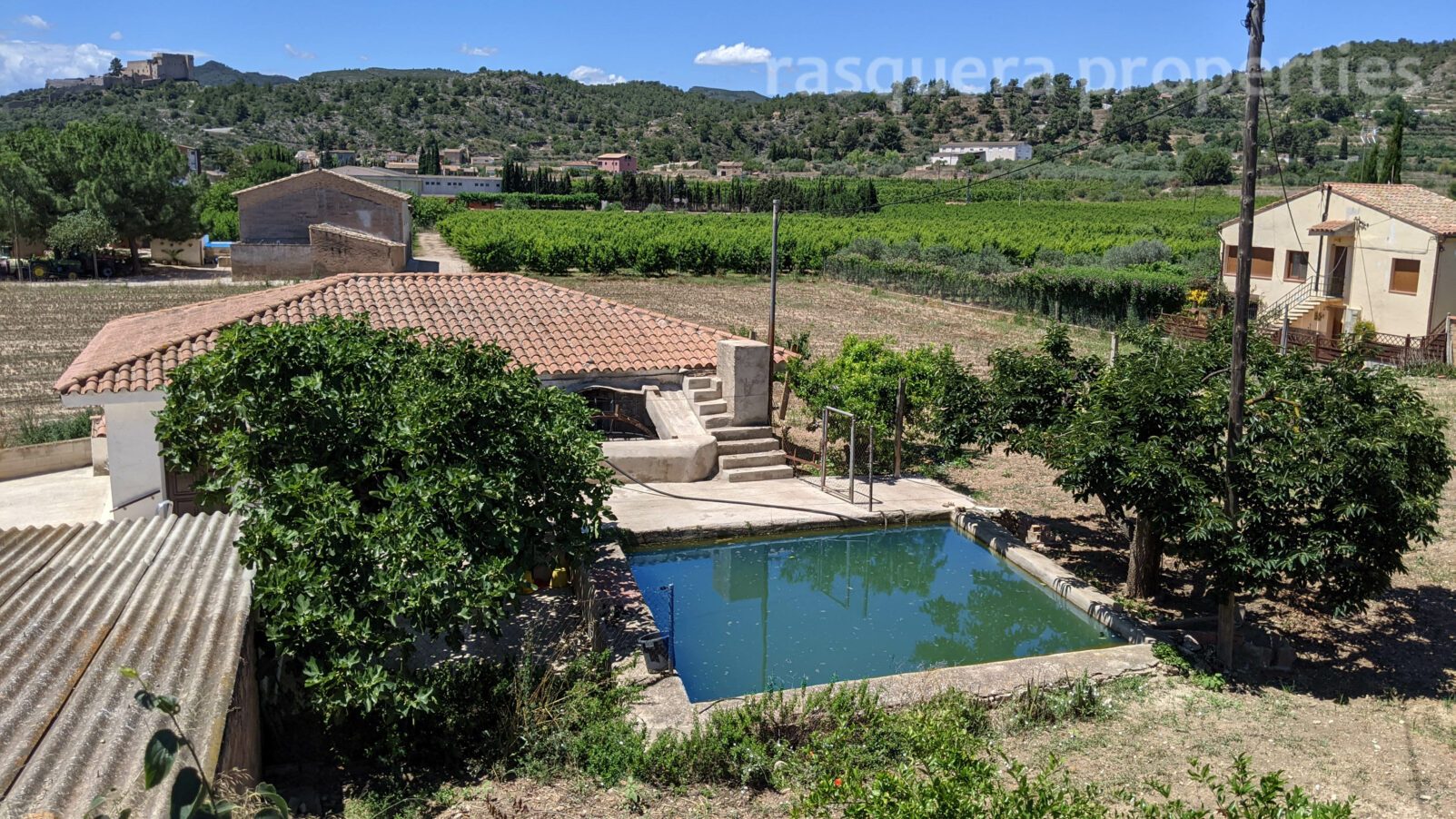 MIRAVET. VILLAGE EDGE PROPERTY WITH HOUSES, BARNS & FIELD
285 000€
Ref: 071B/21
An unusual property with a bit of everything to offer.

Located on the edge of the beautiful riverside village of Miravet, renown for its history, Knights Templar castle, beautiful buildings and pottery, this property, which is made up of various parts, totalling 1.6 hectares (16,813m2).

To the back of the property in a secure fenced-in area, is a single storey 90m2 habitable house, an old 3 storey traditional stone house to renovate, a balsa, which doubles up as a pool, plus a large covered area which serves as a garage, store room and shed.

Running along the right hand side of the property are two large sheds totalling 653m2, which once housed rabbits. To the left of the buildings and taking up the rest of the property is a tilled field, which would be suitable for horses or crops.

The 3 bedroom house, which is alarmed, has central heating, double glazed windows, and built-in rollablinds with mosquito netting. It is connected to mains electricity, the village water supply and has its own borehole, which can pump up 16 000 litres per hour.

The Knight's Templar castle, which sits on the hill behind Miravet is clearly visible from the property. The village of Miravet with it's tree lined plaza above the river, is a short walk from the property, as are the various bars, cafes and pottery outlets that the village is famous for.

The town of Mora is a 10 minute drive from the property and the villages of Rasquera and Ginestar, on the other side of the river, can easily be reached by crossing the river on the traditional car ferry, which is an experience in itself.

MIRAVET. VILLAGE EDGE PROPERTY WITH HOUSES, BARNS & FIELD – 285 000€ Ref: 071B/21