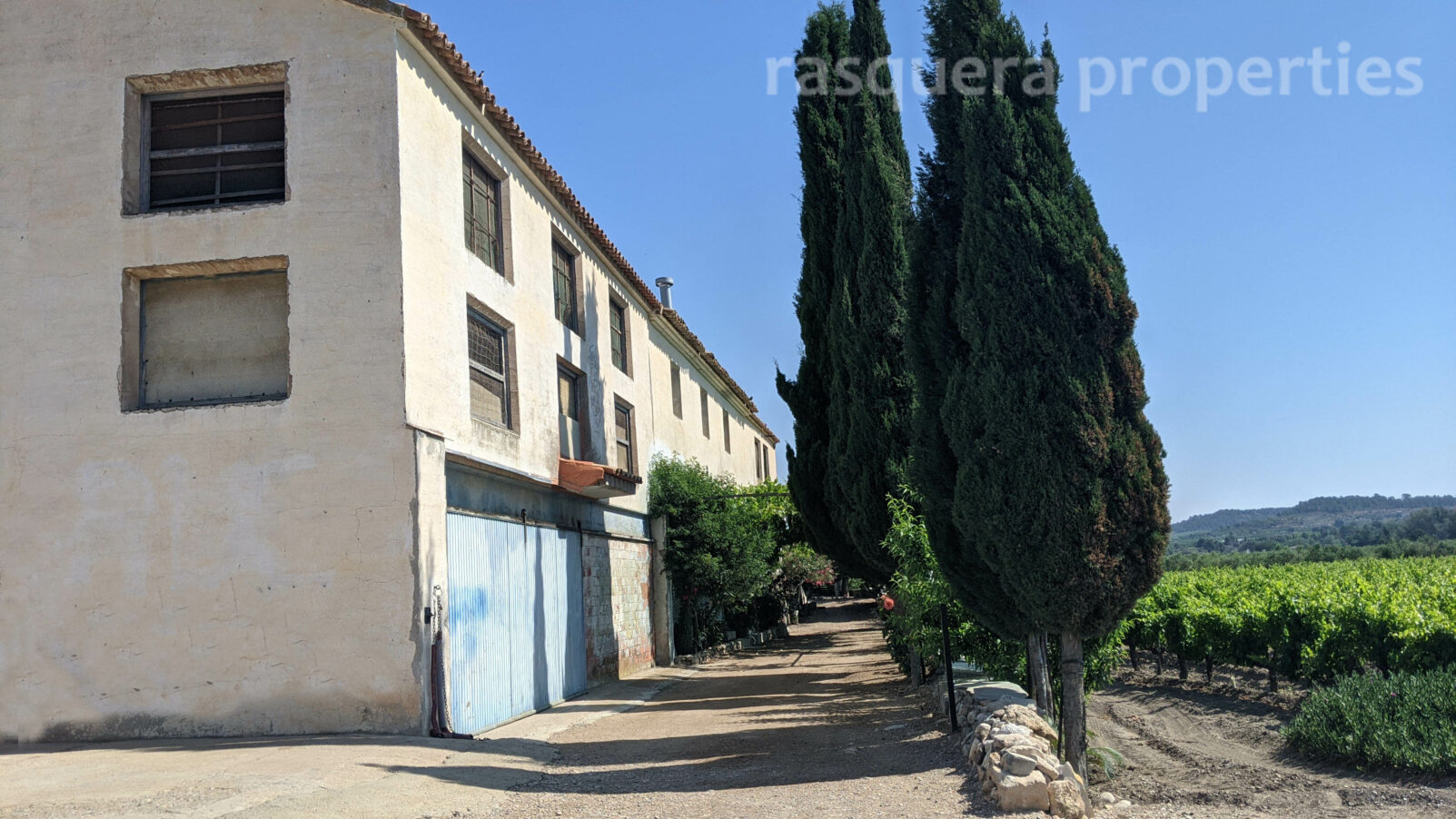 MORA D'EBRE. VINEYARD WITH LARGE BUILDING NEAR RIVER
260 000€
Ref: 70B/21
This beautiful 3.9 hectare (39,015m2) property, located on the border between Benissanet and Mora d'Ebre, consists of an irrigated, well tended vineyard of white Macabeo (Viura, Macabeu) grapes and black Ganatcha (Garnaxa, Grenache), which both grow well in this area.

Annual yields vary between 20 000 - 30 000kg for the Garnacha and 58 000 - 70 000kg for the Macabeo.

At the back of the property, just off the quiet Cami De Les Senies road, is a large building comprising of the original 2-storey masia farmhouse, with double-storey garages and warehouses on either side. Together making up a building of over 800m2. While the original masia is structurally sound, it needs modernizing to get it to modern habitation standards.

To the front of the building is a shaded terrace of grapes, roses and cyprus trees, with views over the vineyards and towards the river Ebro and mountains.

To the left of the house is a 150m2 balsa/swimming pool, which holds up to 900 000 litres of water. The water is pumped from one of 2 boreholes which can pump up to 50 000 litres per hour. The property is connected to the mains electricity supply.

To the left of the pool area is a pony stable, some olive trees which produce enough oil for personal use, fruit trees and space for a vegetable garden.

The farm is a member of the Benissanet cooperative, so the owner has the use of shared machinery, while also having his own machinery, which is included in the price of the sale.

If a buyer is only interested in renovating the building for personal or business use, it is possible to rent the land and vineyards to the neighbouring farmer.

The property is a short walk from the river Ebro and less than 5 minutes drive from the village of Benissanet and town of Mora D'Ebre. This is a beautiful area renown for it's fertile soils, stunning views and the river.

MORA D'EBRE. VINEYARD WITH LARGE BUILDING NEAR RIVER – 260 000€ Ref: 70B/21