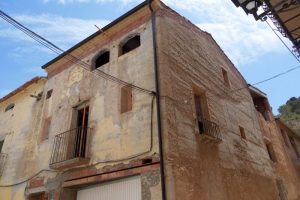 RASQUERA STRUCTURALLY REINFORCED, RENOVATED HOUSE – 96 000€                                                                                                             Ref: 089A/16
Located at the top end of the Catalan mountain village of Rasquera, below the road leading to the famous Cardo monastery, this traditional stone house of 228m2 (plus internal courtyard) has been completely renovated to a high standard.
The roof has been rebuilt, with good insulation, traditional tile edging and new metal gutters. There are new floors with RSJs, concrete beams and ceramic arched pots on the ground and first floors. The top floor features a wood panelled ceiling with exposed wooden beams.
This corner house has a double garage downstairs, with a new garage door to the front of the building. Behind the garage is a storage room with access to a small indoor courtyard. There is also access to this space from the side of the house, on the next street, which is a cul-de-sac.
From the front door, located to the left of the garage door, is the newly built staircase, which runs up the left hand side of the house.
The current owner has left internal spaces open, so that buyers can arrange the spaces to their own specifications. 
At the back of each floor is a room with the internal courtyard to the left. There are traditional village views from the first floor and views all the way to Miravet castle from the second. 
For an additional 30 000€ the current owner will complete the renovation, if the buyer wishes. All the heavy and expensive work has already been done.
This is an interesting and quirky house with a good juxtaposition of old and new. The internal courtyard is an added feature, which makes this house unique.